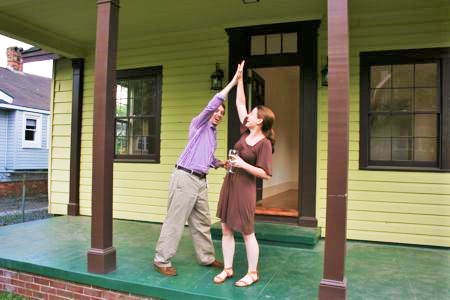 As I've mentioned on my Radio Talk Show many times, my high 5 indicators to know you are ready to buy a home is really simple. It's when your income, years of employment, FICO score, mortgage interest rates, and market prices in alignment together provide a monthly payment that you can afford.
1. Income
2. Years of Full Time Employment (2 Yrs)
3. Your FICO aka credit score
4. The mortgage % rates
5. Housing Prices
Also, because there are so many variables there are five highly important steps to take that will get you up to the front door of your first home.
STEP 1) GET PRE-QUALIFIED:
You won't know until you get pre-qualified to see how much home you can afford to buy. By providing the lender the following information your lender can let you know.
Getting pre-qualified takes the High 5's and the real deal is finding out how much home your income, assets, minus debts, and credit score will afford you.
Issues with credit let your lender be your guide and to refer you for credit repair. With your credit don't regret it, just repair it!
Even if this takes time, no better time than now if you put off taking care of your credit, you will regret it. Not just for owning a home, but for all aspects of your purchasing life.
Banks will gauge your credit worthiness based on your debt to income ratio (DTI) which will reduce how much home you may qualify to buy if you have to much debt.
The following is typically a list of what lenders need and may vary slightly from lender to lender:
A copy of your driver's license and social security card.
30 days consecutive pay stubs with YTD and gross.
2 months bank statements all pages with name and account numbers.
Most current asset / retirement statements.
2 years w-2's and 2 years tax returns (Federal Only), for conventional and/or Veterans. 3 years of W-2 and 3 years tax returns for Down Payment Assistance Programs.
Any additional income like retirement annuities, etc.
Profit and loss statements or 1099 forms, if you own a business.
If currently renting, need contact information to your property management company.
If you are a home owner then copy of mortgage statement, tax statement and insurance declaration page.
A list of all properties owned (address, purchase price, amount owed), taxes and insurance declaration pages.
List of all your debts, including but not limited to credit cards, student loans, car loans and child support payments, along with account balances and minimum monthly payments. This will help determine your Debt to Income Ratio also known as DTI. To much debt can reduce the home loan amount, while little debt may boost your buying power, or having no credit/debt may disqualify you.
Again, these are variables that can only be answered by submitting to and going through Step 1) Get Pre-qualified. Best advice I can give you, is to gather all the documentation first, then contact a lender. You will be that much more ahead of the game. If you take to long you could potentially lose out on properties in your price range, especially in this accelerated, highly competitive seller's market.
STEP 2) GET PRE-APPROVED:
Pre-approval is when you lender evaluates your potential buying power and based on all the information and documentation you provided ascertains the maximum loan amount (mortgage) you are approved for and/or the amount they are willing to lend.

Pre-Approved is the next step: This means that the lender has taken all your STEP 1) information and documentation and submitted it for pre-approval, and generates a pre-approval letter with your loan approval amount.
A pre-approval letter along with your offer puts you in a position of advantage. For you shown you've shown your serious intent by positioning yourself to get a loan to back up your offer.
Also, proof of funds, how much money you have in accounts to prove you have what I call "buy-ability'" also makes for a stronger offer.
STEP 3) DETERMINE WHICH LOAN PROGRAM IS BEST FOR YOUR PARTICULAR NEEDS:
Determine which loan program is the most advantageous for you. This would be a good discussion to have with your lender, based on your intent and what type of loan best fits your purpose of buying.
Conventional
FHA
CalHAFA,
VA
Rehab 203-K
USDA
Native American Loan
Down Payment assistance, grant money, and gifts are some of the benefits that may be offered.
The goal is to get the best loan that gives you the most leverage to buy as much home as possible.Getting the most home now gives you stability for the future. Most of my First Time Home Buyers get their forever homes and never move again. This stabilizes your future because as rents go up,your fixed interest monthly payment does not, even if your home value increases and that you can budget you can live with. Plus you have tax deductible benefits and a home to call your own!
Side-note, I am a strong proponent of fixed rate loans, once variable interest rates were introduced, my first thought was there goes the stability of the homeowners! Because variable interest rates fluctuate and it means the payment will most likely go up instead of down. Fixed means fixed, the interest rate will never go up and you can plan your future by setting a budget for your life based on fixed monthly payment your home mortgage will provided.
Caveat, it's best to pay the real loan amount based on your income today, and not be lured into paying less by a variable rate loan, to me there's no stability in that. You see what seems like an initial bargain today may potentially cost you the home that you love, like The CRASH of 2008!
Confirm your information with your lender, how much home you can afford, not how much they want to lend you. To me your affordability should be based on a monthly payment you can afford based on your income today. Do not base it on your projected future income. I want you to be safe with a loan and a home you can live with, not a loan amount your lender wants you to reach for because they will make more money! He/she is not paying for your mortgage you are, your loyalty goes to your family's budget!
Please have the following points of discussion with your lender
Any costs moving forward with a purchase
Appraisal
Points (cost to do the loan)
Lender Fees
Total $$$ dollar amount you will get in lender credits (if any), gifts, or grants if it applies.
If you need seller's credit.
How much down payment you will need.
Cost break down of your loan.
What your monthly payments including impounds for taxes, and insurance.
Home Owner's Association (HOA's)
Are you paying mortgage insurance/adds to monthly cost.
Know the dollar amount of how much cash you will need to close escrow.
The questions will not stop there, however, after 14 years of advocating and protecting my clients from loans that would make them moan, I find these are the most pertinent questions. The ones you need to know upfront before we start hunting for your home.
LENDERS: By the way if you need help locating a lender, just contact me toll free at 1-800-572-1888. After being around the block a thousand times, I am your lender filter. For I know who the players are and who the best fit maybe for your particular needs.
STEP 4) CONFIRM YOU LOAN FACTS & FEES:
Confirm your need to know information with your lender, how much home you can afford, these are some of the questions you will need need to ask. Get it upfront and in an email or writing, do not accept any verbal promises.
Any costs moving forward with a purchase, like appraisal.
The total dollar amount you will get in credits, gifts, or grants if it applies.
How much down payment you will need.
Cost break down of your loan.
What your monthly payments will be including impounds for taxes, insurance, HOA's and mortgage insurance if applicable.
Know the dollar amount of how much cash you will need to close escrow.
Mary Ann's Advice: You may look at the loan amount and get overwhelmed thinking of the entire debt. Focus on the monthly payment if you are comfortable with that, just know unlike rent a fixed rate mortgage payment will stay the same throughout the entire life of the loan, providing you don't refinance. This adds financial stability to your future and you never have to worry about a landlord raising your rent, or forcing you to move out, and I call that security.
STEP 5) START HOME HUNTING – BUT KNOW YOUR MARKET CONDITIONS:
Now you are ready to go hunting for a home, and the next step is to identify your market conditions and the process of making an offer. First however, is an emotional guideline to set realistic expectations?
If your search is price driven, even if you choose a specific area to live, you may need to be flexible and open to other locations of opportunity.
Your pre-approved amount is your target market. In other words, whatever price point that may be, the goal is to get into a home at that price range within the next 30 days.
You see, every 30 days you lose your market, because every offer that's been made, accepted and closed escrow and records pushes up the price point each month and you will end up with less home for the same pre-approval amount.
You may miss out on your market if you get to picky. This is why knowing the current market conditions will guide the urgency of your making an offer and how much you may have to offer in order to be competitive.
Don't be lazy, you have to get up and go see the home that your Realtor advises you to check out. If you don't the home may be gone before you decide you want to make the effort. Also, "offers subject to visual inspection" to see the house after the offer fact, is not favored.The risk to say yes, when you haven't seen the property is to high for the sellers to say yes!
Exception, the only time this is a good offer scenario, is where there are uncooperative renters, then you have no no choice but to make such an offer, per instructions.
___ Seller's Market __Buyer's Market ___Investor's Market
Mary Ann's advice: My goal for you is to get you is my 3B's, the 1. Best property, 2. Best location, 3. Best price. That being said, your goal is to know my best for you will be set by the market conditions and achieved by our working together.
My Philosophy:
Aim higher, give your best, never give up and always close escrow!

My Mission Statement:
"Bringing Your Real Estate Vision to Fruition"
To take your real estate vision and do her very best to bring it to fruition, while striving to place you in the best position!
Just know the preceding is offered to help you be real, set expectations, be motivated and informed about the initial steps of getting you into your first home. My commitment for you is genuine, I want you to achieve the American Dream of home ownership and with trust, dedication, determination, and with the right loan we can make it so.
Mary Ann Cadorna – San Fran Mary Ann
San Francisco Bay Area Realtor CalBRE 01345274
415-810-1888 Email: MaryAnnCadorna@gmail.com