About Mary Ann
SanFranMaryAnn is Your "Smart with Heart" Realtor and Your Bridge to Home-ownership on Both Sides of the Bay!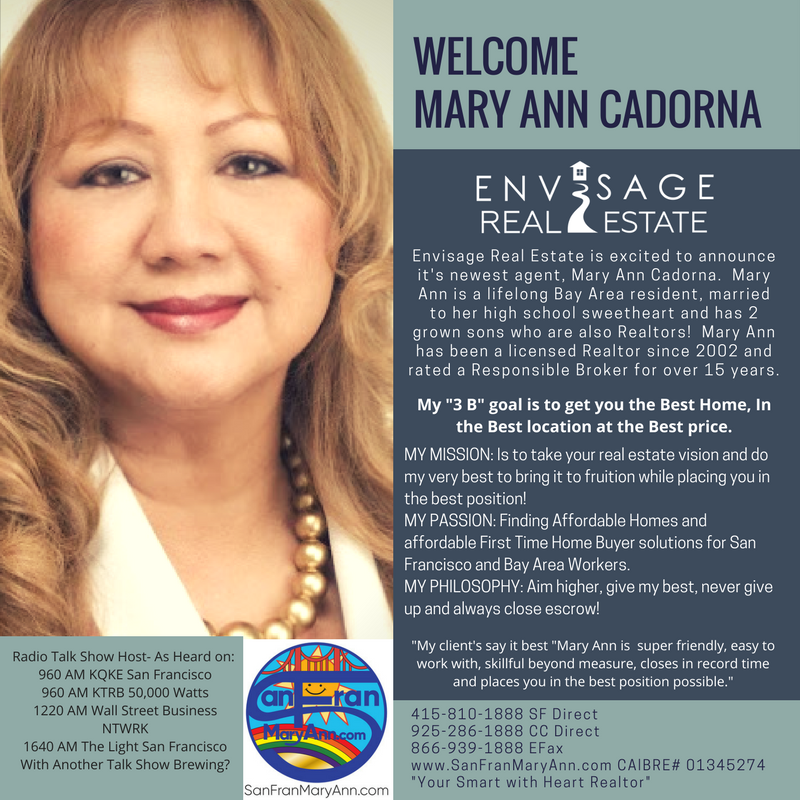 TRANSITION AND CONTINUED MISSION: After two years in Commercial Real Estate, Mary Ann Cadorna has returned to her first love helping First Time Home Buyers, and getting sellers the highest return in listing their homes.
Licensed Realtor® since 2002 and rated a Responsible Broker for 16+ years. Moreover, being a former San Franciscan for 30 years, she has returned to re-claim the heart she left behind and her love for San Francisco.
However, after selling in the whole bay area along with full access to the bay area listings, she brings a wealth of bay area knowledge to your home buying and selling needs.
As a result, San Fran Mary Ann is your bridge to home ownership and real estate investments on both sides of the San Francisco Bay.
Why, I chose Evisage Real Estate, they have two offices which matches my rainbow arch from San Francisco to Pleasant Hill CA.
Please note, that I am an a highly trusted Realtor award winning agent, 5 Star rated with the Better Business Bureau (BBB), Facebook, Google, Trulia, YELP and Zillow, and an award winning community volunteer. I provide excellent representation for both buyers and sellers, with a 99% success rate at closing escrows (including Short Sales) and a Agent Elite Certified through Equator.com and a Certified Distressed Property Expert (CDPE).
Mary Ann's ethical business practices has earned her 3rd party validation with an A+ Rating, the highest accreditation presented by the Better Business Bureau for building trust, honesty, being truthful, transparent, honoring my promises, responsive, safeguarding privacy and embodying integrity.
Mary Ann Cadorna Your "SMART with HEART" Realtor®CA Bureau of Real Estate #01345274
MISSION: To achieve her 3 B's
1) BEST Home
2) BEST Location
3) BEST Price
Because she's "Smart with Heart" she takes your dreams higher. When she's listing your home, her sellers attain the highest return on their investment.
PHILOSOPHY: Aim higher, give her best, never give up and always close escrow!
MY PASSION: Finding affordable homes and affordable First time Home Buyer Solution's for San Francisco and Bay Area Workers.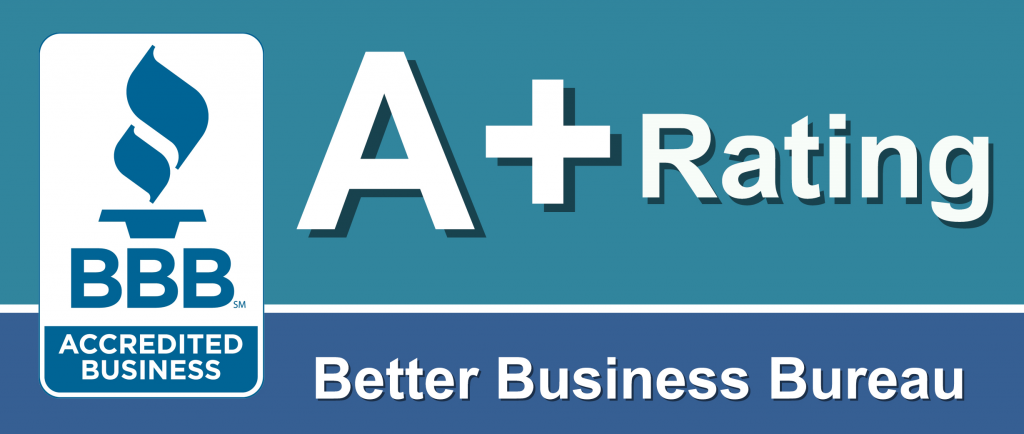 Mary Ann Cadorna has received A+ Rating the highest accreditation with the Better Business Bureau (BBB) for practicing their 8 Principals of:
1. Build's Trust.
2. Advertises Honestly.
3. Tell's the truth.
4. Be Transparent.
5. Honor's promises.
6. Responsive.
7. Safeguards privacy.
8. Embodies integrity.
5 Star Rated Across the Internet
5 Star Rated Better Business Bureau
5 Star Rated on Facebook
5 Star Rated on Google
5 Star Rated on Trulia
5 Star Rated on YELP
5 Star Rated on Zillow
SKILLS: Excellent Negotiator, Problem Solver, Communications, Diplomat, Human Relations, Public Relations, Public Speaking, Fund Raising, Promotions, Master of Ceremonies, Net-worker, Influencer, and Broadcast Media/Radio.
REAL ESTATE RADIO TALK SHOW HOST: Real Estate Buzz 860 AM The Answer 4:00-5:00 pm Saturdays Listen Live – Podcasts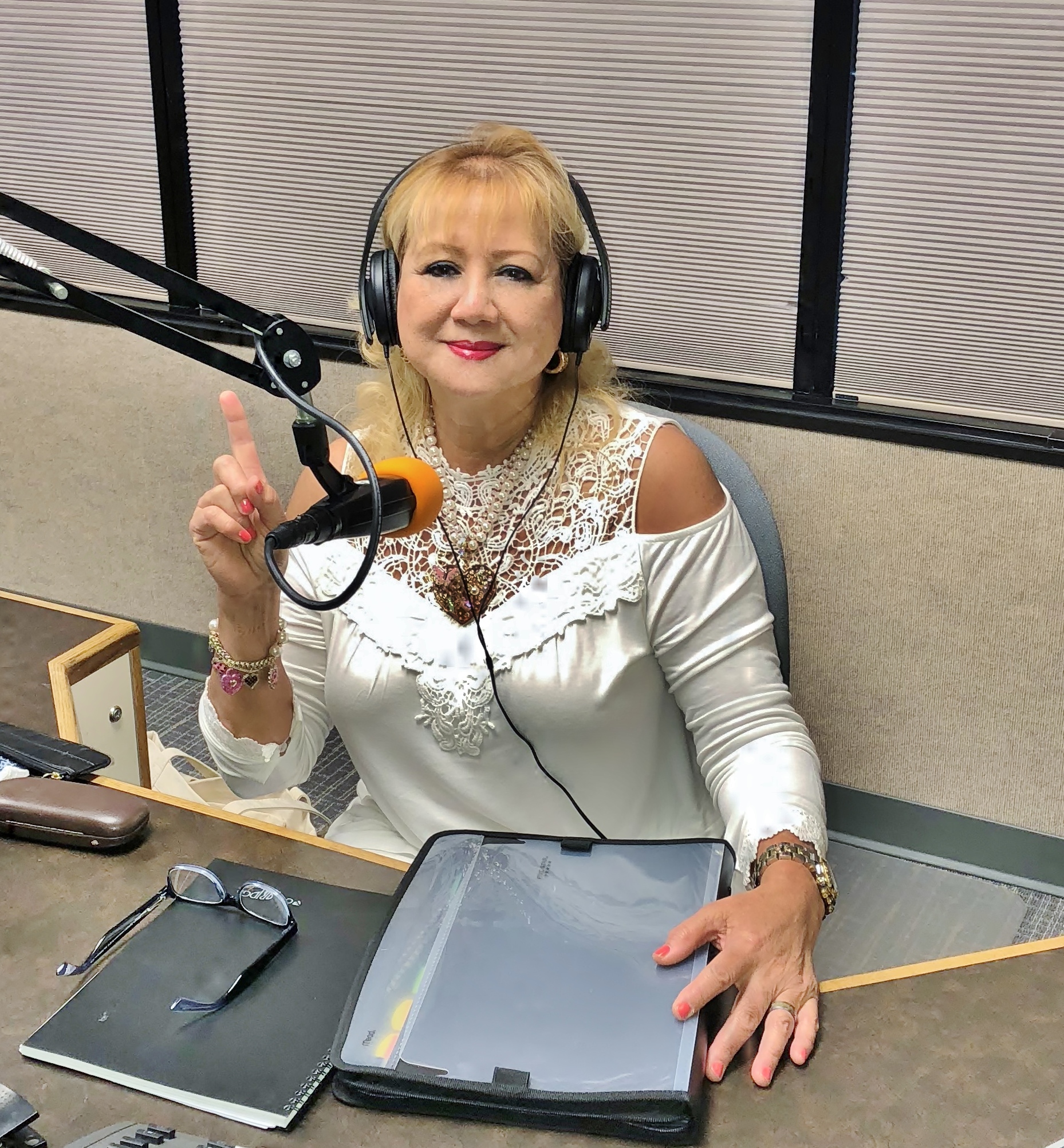 UNIQUE MARKETING: Mary Ann Cadorna is an above the crowd thinker, and as a result she saw Radio Broadcast as an untapped resource 13 years earlier than her peers, and set a trend to use broadcast radio to promote herself, her listings and her industry along with affiliates and various organizations. As a result of her personality and popularity she had the No. 1 weekend program and increased the listener numbers 5 X's what they were previously and in only 90 days!
Mary Ann Cadorna Real Estate Talk Show Host as heard on the following radio stations:


860 AM The Answer – Real Estate Buzz
1640 AM KDIA The Light of San Francisco
1220 AM KDOW Wall Street Business Network
860 AM KTRB 50,000 Watts San Francisco
960 AM KQKE The Quake San Francisco

Mary Ann Cadorna is a Social Media Realtor and active on multiple social media sites like:
Blogs
Blogspot
Facebook
Google Plus
LinkedIn
Patch.com
Twitter
Youtube
You can follow Mary Ann Cadorna on her blogs, her About Town posts, or you can count on getting your listings promoted instantly throughout the established internet networks and her network and Social Media.

RECOGNITION: With going on 17 years of experience, she's an award winning agent, 5 Star Rated with the Better Business Bureau and Facebook, Trulia, YELP, and Zillow. In 2016 Mary Ann Cadorna was awarded the highest accreditation for a Realtor with an A+ Rating by the Better Business Bureau (BBB), for embodying honesty and integrity in her business practices.

VOLUNTEER OF THE YEAR AWARD 2012
COMMUNITY: Mary Ann believes very much in community, and volunteers by singing at Residential Care Homes, Assisted Living Facilities, and Kidsfests. She's also supported Seniors, Veterans, Boys & Girls Club of Oakland, Children's Hospital, Contra Costa Food Banks, SPCA, various Community Organizations and many good causes throughout her years in real estate. Recipient 2012 Volunteer of the Year Award.
HER CLIENTS SAY IT BEST: "Mary Ann Cadorna is super friendly, easy to work with." "Skillful beyond measure, can close deals in record time; provide advice that places you in the best position, is very enjoyable to talk/work with, and skillful beyond measure."
SERVICE AREA: San Francisco, Pleasant Hill, Concord, Martinez, Dublin, Walnut Creek, Lafayette, Moraga, Orinda, Alamo, Blackhawk, Danville, Diablo, San Ramon, Livermore, Pleasanton, Castro Valley, Hayward, San Leandro, Oakland, Berkeley, Albany, Emeryville, Piedmont, Pinole, Hercules, San Pablo, Richmond, Foster City, San Mateo, San San Bruno, Daly City, Novato, Benicia, Vallejo, American Canyon, Pittsburg, Antioch, Brentwood, Oakley, San Mateo County, Marin County, Solano County, Greater Bay Area and California.
RESIDENTIAL SERVICES: Single family homes, 1-4 units, Condominiums, Town-homes, TIC's, Duplexes, Triplexes and Fourplexes.
LUXURY HOMES: We provide excellent service for you Luxury Home and Bay Area Wide.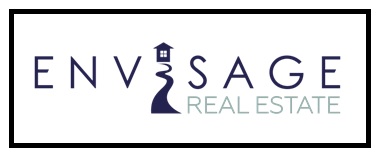 REVITALIZATION-REHAB NEW HOME CONSTRUCTION: Our Brokerage is unique as we combine the world of construction and real estate sales together. We bring your home back to it's full glory or your vision of what it can be, and we also do New Home Construction & New Home Developments.
GLOBAL REAL ESTATE: Mary Ann Cadorna is a PROXIO Pro and connected to a Global Network of Real Estate professionals.
DESIGNATIONS: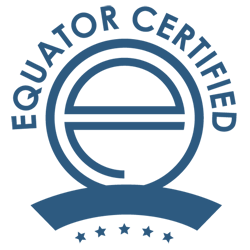 EQUATOR CERTIFIED Agent Elite certified with Equator. Number 1 Ranked in Area San Francisco, Pleasant Hill, Walnut Creek, Concord, Martinez, Vallejo.

Certified Distressed Property Expert (CDPE) The Listing and selling of Short Sale also known as Distress Sales, Short Sales aka Pre-foreclosures with a 99% Success Rate.
COMMERCIAL SERVICES: Ask about our Commercial Real Estate Services, as we are here to help with all your real estate needs.
HOBBIES: Blogger, Inspirational Writer, Poet, Singer-Song Writer, Plays Guitar & Piano by ear, Karaoke, Sewing, Cooking, Baking, Fine Art, Arist, Arts & Crafts, Graphic Arts, Decorating, Designing, Marketing, Promotions, Websites, Video Production, Fashion, Photography, Developing New Ideas, and all things creative.
Mary Ann Cadorna – San Fran Mary Ann
Realtor CalBRE 0145274
Email: MaryAnnCadorna@gmail.com
Direct: 415-810-1888